The Terrace Prestbury, Cheshire
Luxury Living
Outside Space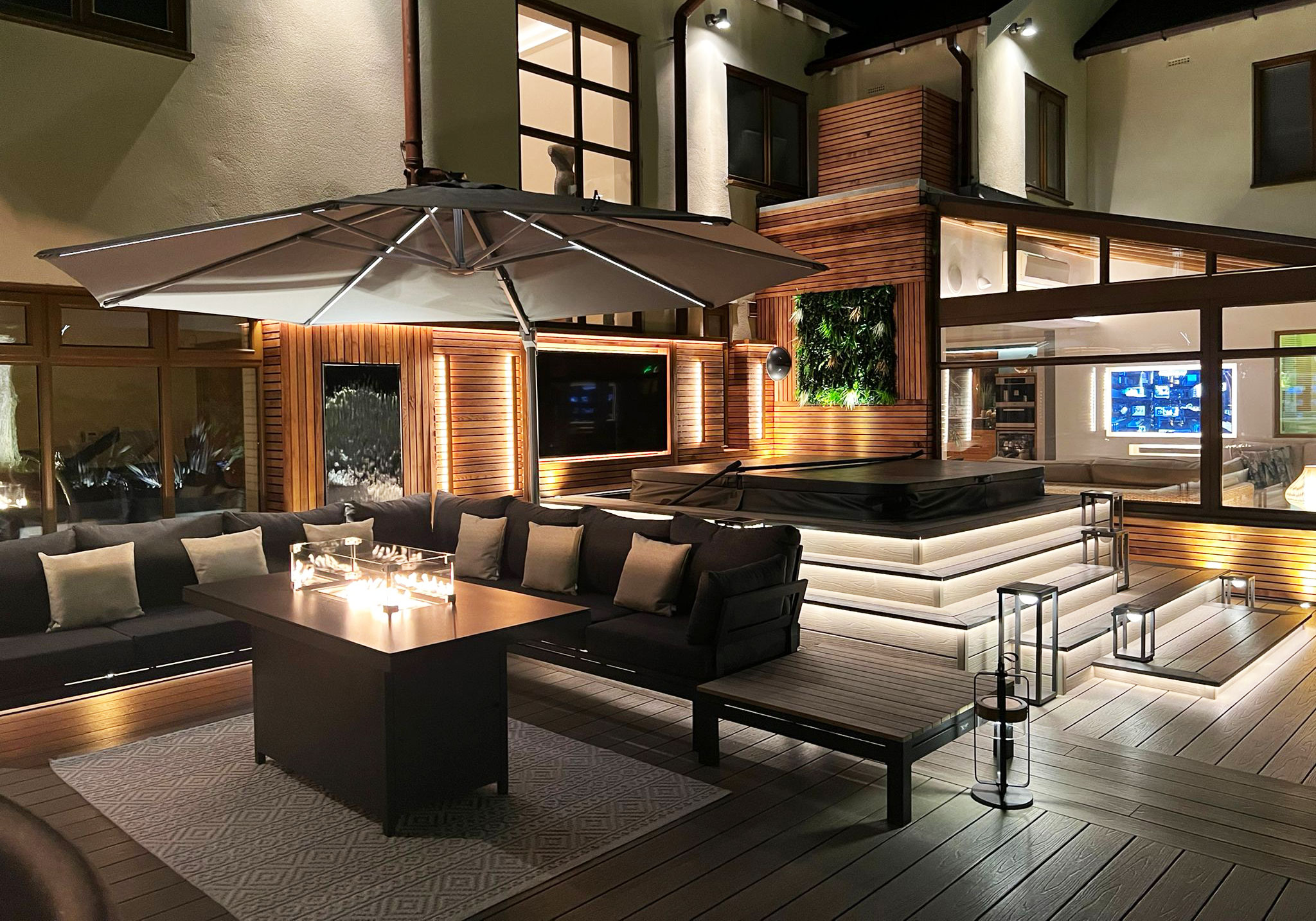 Garden Landscaping Design Prestbury; The Terrace, Cheshire.
Outside Space Landscaping & Design worked closely with our client, the property owner who we kept involved throughout every step of the process. We understood their needs, shared ideas and developed a good relationship to achieve the following results. Contact us if you have a project you would like to have a chat about.
TIMESCALE: 8 weeks from concept to completion.
Composite Decking: flush with patio doors of property so no steps in or out, composite raised hot tub steps and hot tub surround with area to conceal hot tub lid when folded.
Wet Areas: raised hot tub, outdoor shower with hidden concealed tray, water features, waterfall walls – decking doesn't get wet!
Entertainment: feature TV, surround sound system with speakers.
Patio Dressing: furniture, fire table features.
Illumination: feature LED lighting to every aspect of garden and landscaping, remote controlled activated by clients mobile phone.

Ambiance: western red cedar cladding to back of property and installation of artificial green walls.

A Truly Bespoke Unique Outside Space
No Plans, No Drawings, Just a Vision
Design • Installation • Construction

Client Testimonial
Finding the right company to engage with on such a large and complex project was never going to be easy…….particularly when we struggle with anything less than perfection!
But right from the off we could tell we'd found something inspiringly different, and uniquely special, with the Outside Space Team.
From initial consultation through to the final handover, absolutely nothing was too much trouble for Dave and his Team.
Dave personally invested hours of planning and engagement, both prior to being awarded the contract and throughout the project, and it was clear there is an underlying passion throughout the whole Team, to create something very very special.
We knew one of the biggest challenges was our requirement to customise, literally on the fly, constantly sharing ideas and building them into the finished product as the project evolved, which was something this Team did effortlessly, time and time again.
Always on time, flexible beyond belief and a caring attention to detail like we've never experienced before…..this Team really do define genuine care and perfection!
It's safe to say, that not only were our perfectionist expectations well and truly met, but we had the pleasure of working with the most friendly and caring Team, we've ever had the privilege to meet.
Thank you so much Outside Space…… we're already looking for the next project to work on together!

Project Overview
transforming spaces
Swipe to see the transformation Outside Space delivered for our client in Prestbury, Cheshire. Work to achieve this amazing outside space involved bespoke composite decking, raised hot tub deck, water features, illumination, western red cedar cladding, outdoor shower, entertainment area complete with TV and surround sound, artificial green walls, fire tables and patio dressing.